Prayer For Significant Change In Your Life | Prayers For Immediate Change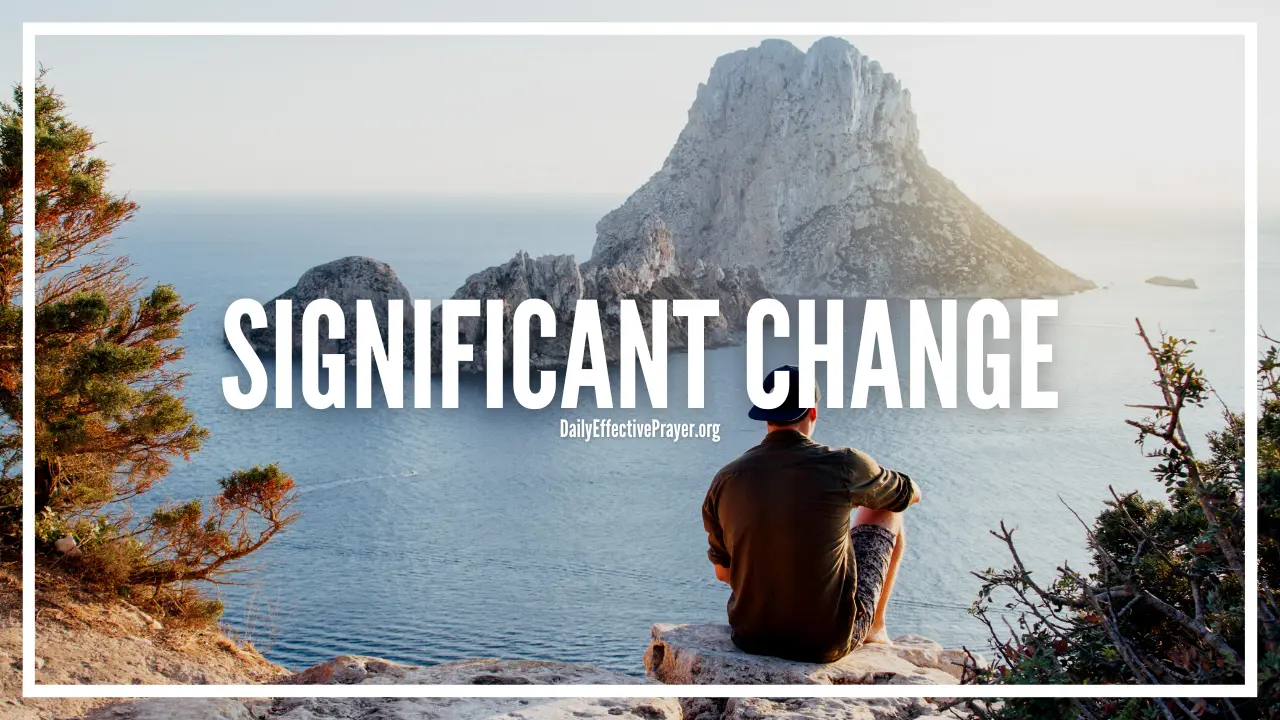 Welcome to the prayer for significant change in your life.
This is a prayer I've put together where I would like to pray for anyone within the sound of my voice.
All I ask you to do, is to agree with me as I pray, and together we will seek our Heavenly Father.
Let us pray…
Heavenly Father, we gather together and come into agreement in the wonderful and powerful Name of Jesus Christ.
Where two or more are gathered there You'll be in the midst of us and anything we agree upon as touching You will surely do.
Father in Jesus Name, there is no distance in the spirit and we thank You for the person I am praying for who desires a prayer for significant change in their life.
Watch The Prayer For Change Below
Father, please forgive them for any time they may have allowed complacency to keep them at a particular level in life that You desired they move on from.
Together in agreement, we ask You to help them stir up their desire to make significant changes in their life.
They believe now is the time.
This is the day they have truly decided that change is necessary.
They want more.
They want to rise up in life.
They want to change.
They want to grow.
Lord, we ask that the desire for significant change in their life bubble up and over in their heart in abundance in Jesus Name!
Yes, may it be an unquenchable desire to see change and take a big step forward in all that You desire that they accomplish with their life!
We decree and declare that they have more than enough desire to make significant changes in their life like never before!
Yes, we decree and declare that they are not going to stay the same as they have been in the past.
Thank You that today is the day they are stepping forward!
Praise You that through the Holy Spirit empowering them from within, they are running the race of their life and are 'sold out' to doing whatever it takes to finish the tasks You place in their hands.
The person I am praying for will not give up nor will they allow anything to distract them from moving in the direction of seeing significant change in all areas of their life!
Praise You that they will never be the same again!
We believe and receive everything we've prayed and give You glory in advance for this prayer is answered!
In the wonderful and precious Name of Jesus we pray, amen.
Copyright © DailyEffectivePrayer.com
(Thank you for praying with me. Be sure to like, comment, share and subscribe. God bless you.)
Scripture References
Mark 11:20-25, 2 Peter 3:9, Deuteronomy 31:6, Ecclesiastes 3:1, Isaiah 43:19, Jeremiah 29:11, John 10:10
Bible Verses To Use When Praying For Change In Your Life
Deuteronomy 31:6 - Be strong and of a good courage, fear not, nor be afraid of them: for the LORD thy God, he [it is] that doth go with thee; he will not fail thee, nor forsake thee.
Hebrews 13:8 - Jesus Christ the same yesterday, and to day, and for ever.
Jeremiah 29:11 - For I know the thoughts that I think toward you, saith the LORD, thoughts of peace, and not of evil, to give you an expected end.
Romans 12:1-2 - I beseech you therefore, brethren, by the mercies of God, that ye present your bodies a living sacrifice, holy, acceptable unto God, [which is] your reasonable service.
Philippians 4:6-7 - Be careful for nothing; but in every thing by prayer and supplication with thanksgiving let your requests be made known unto God.
Ecclesiastes 3:1 - To every [thing there is] a season, and a time to every purpose under the heaven:
2 Corinthians 5:17 - Therefore if any man [be] in Christ, [he is] a new creature: old things are passed away; behold, all things are become new.
James 1:17 - Every good gift and every perfect gift is from above, and cometh down from the Father of lights, with whom is no variableness, neither shadow of turning.
Proverbs 19:2 - Also, [that] the soul [be] without knowledge, [it is] not good; and he that hasteth with [his] feet sinneth.
2 Corinthians 4:16-18 - For which cause we faint not; but though our outward man perish, yet the inward [man] is renewed day by day.
1 Corinthians 15:51 - Behold, I shew you a mystery; We shall not all sleep, but we shall all be changed,
Proverbs 18:15 - The heart of the prudent getteth knowledge; and the ear of the wise seeketh knowledge.
2 Peter 3:9 - The Lord is not slack concerning his promise, as some men count slackness; but is longsuffering to us-ward, not willing that any should perish, but that all should come to repentance.
2 Timothy 3:16-17 - All scripture [is] given by inspiration of God, and [is] profitable for doctrine, for reproof, for correction, for instruction in righteousness: